Excerpt from El Adobe Jr. Guest Ranch
By Barbara Raggio
Chapter Eleven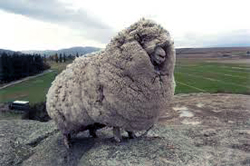 Well, the girls looked at each other and smiled, and then they all said they were too chicken to do it after all and rode out the fence. I tried to convince them, but to no avail. So I told them to watch me—I would show them how to do it, as if I was some kind of experienced sheep rider or something! I asked one girl I liked if she would hold my hat because I did not want to get it trampled by the sheep. I looked carefully at all the eight sheep and saw the largest, fattest sheep looking at me, chewing some dandelion flowers.
I said out loud, "You're the one." I glanced back at the girls' smiling faces and I took off like the wind, flying through the grasses in the early morning dew, like a tiger after his prey, I knew I could do it, so I was not afraid! I rode along the big sheep at full speed and quickly jumped off the back of Moki onto the very frightened sheep. I clung on for dear life and the ride I experienced was truly the most amazing ride of my life. The sheep ran so fast and made turns that were unknown to man. I dug my hands deep and held on. My fingers were already getting sore. The sheep snorted the whole time and blew snot back at my face. I wiped my face on the wool and kept my legs up tight and wrapped around the sheep's back.
Read the rest of the story in my eBook "El Adobe Jr. Guest Ranch"
Barbara Jean Raggio © 2011
All Rights Reserved